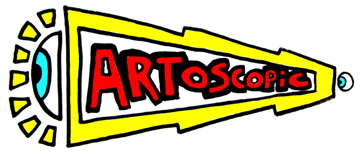 Artoscopic was initiated in 2007 it was an open submissions event primarily to offer a space for artists to experiment and work with the space it really was a case of anyone turning up on the allocated time and date and setting up their work
The space is the St Leonards Railway Tunnel (Innocents Railway) Edinburgh The tunnel is believed to be Scotland's earliest tunnel on a public railway. It was excavated in volcanic rock and lined with Craigleith sandstone, with a semicircular cross-sectional top 20 feet wide, and 15 feet high at the crown; it is 566 yards long.
the grand scale of the tunnel can easily accomodate over 500 artists hence the open submissions policy.